By Josh Pokrywka
On January 28, 1900, Alice Hartley Neel was born in Merion Square, Pennsylvania to George Washington Neel and Alice Concross Hartley. Neel's father worked as an accountant, and her mother was a descendant to a signer of the Declaration of Independence. She was the fourth child of five, and she had two brothers and two sisters. Shortly after her birth, Neel's family moved to Colwyn, Pennsylvania, a small town just outside Philadelphia, where she spent most of her childhood (AliceNeel.com).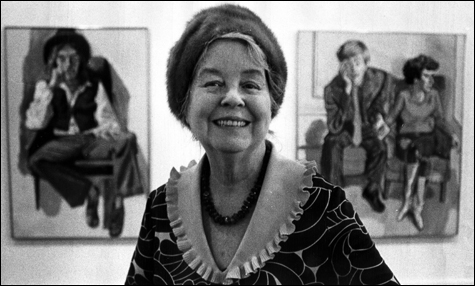 In 1918, Neel graduated from Darby High School and immediately began a secretarial job with the Army Air Corps. While working, Neel took evening art classes at The School of Industrial Art in Pennsylvania until she was offered a secretarial position at Swarthmore College, which she declined. In 1921, Neel enrolled in the fine art program at the Philadelphia School of Design for Women where she would attend classes for the next four years. In 1923, Neel won her first award, the Francisca Naiade Balane Award, in her portrait class. The next year, she would win the award again, along with the Kern Dodge Prize for best painting in life class. While in school, Neel met a Cuban artist Carlos Enriquez, whom she would marry in June, 1925. The two moved to Havana, Cuba for a year, where Neel gave birth to their first child (AliceNeel.com).
In 1930, Neel began suffering nervous breakdowns and suicidal feelings after Carlos left for Cuba with their daughter. She was hospitalized after attempting to commit suicide, and eventually recovered two years later. In the mid 1930's, her career began to flourish. She began with minor exhibitions, while her popular painting subjects included her family and others in her neighborhood, along with painting still lifes, landscapes, city scapes, and narrative and genre scenes. Her art was known for its use of color, and for its "unfinished look". Neel liked to create work that reflected current politics, such as her 1933 painting, "The Synthesis of New York-The Great Depression" and her 1936 painting "Nazi Murder Jews". She also painted numerous portraits of well-known people such as author Joe Gould in 1922, and communist labor organizer Pat Whalen and poet Kenneth Fearing in 1935 (AliceNeel.com).
For the next decade, Neel cut back on some of her artwork, in part due to the Great Depression as she struggled to raise her two children. In 1950, and again in 1954, Neel held a major solo exhibition at the ACA gallery, which marked the revival of Neel's career. In the late 1950's, Neel's style began to change, becoming bolder. Several popular art critics felt that Neel's work was too "casual", and as Grace Glueck of the New York Times stated, "Working in a style that might be called Expressionist-realist, she laid brush to canvas in a plain, straightforward manner, using the paint not fancily but simply to convey an image."(AliceNeel.com)
In the 1960's, Neel's work grew in popularity, in large part due to her portraits of Andy Warhol, Joseph Papp, and Aaron Copeland. Neel began painting satirical portraits of art dealers and historians, but continued to portray everyday people in her artwork. Neel treated details very meticulously, and emphasized gestures in her portrayals. Neel always "spoke the truth, without embellishments or evasions" , as stated by Theodore Wolff. Neel was also popular for convincing her subjects to pose nude for her, as did John Perreault in 1972 (AliceNeel.com).
The women's movement in the 1970's led to an increased popularity of Neel's work. Neel was the subject of multiple retrospectives, leading to a broader audience and increased acclaim. In 1976, Neel was elected to the American Academy and Institute of Arts and Letters, a 250 member honor society that works to "foster, assist, and sustain excellence" in American literature, art, and music. Neel began lecturing in the 1980s, explaining to people how she convinced many of her subjects to pose nude. Eventually, Neel did her own nude portrait, along with several paintings of her children and their families. Neel became the first living American artist to have a major exhibition in Moscow, in 1981. Numerous of Neel's paintings became magazine covers for popular companies, such as Time Magazine (AliceNeel.com).
Neel continued painting despite health issues including cataracts. Neel died of cancer in 1984 in New York. Neel owned a majority of her work at her death, as she rarely allowed to have her work sold. After her death, Neel was widely regarded as one of the most underrated artists of her time, and an influential and persistent worker despite the many obstacles she had to overcome (AliceNeel.com).
Sources Cited:
"Alice Neel." Alice Neel. Web. 12 May 2012. <http://www.aliceneel.com/biography/>.